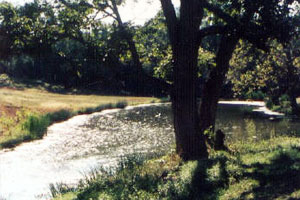 Your hosts at Lazy Acres are David and Amanda Baxter from Lancashire in the UK. David and Amanda came to America in 1985. They moved to Lexington VA in 1993 after spending eight years in Fort Lauderdale, Florida.

"We missed the changing seasons and were tired of the rat-race in Fort Lauderdale. Lexington is a wonderful town to raise children and Lazy Acres Farm is a haven for peace and tranquility," Amanda says.

The farm has abundant wildlife, deer, fox, geese, and turkey, so the Baxters built a good size pond to encourage the animals and stocked the pond with bluegills and large mouth bass for cabin guests to enjoy. They have a son, Callum, who was born here in Virginia in 1993.