Lexington, Virginia
Lexington Virginia is ideally situated in the heart of the Shenandoah Valley, 55 miles east of the West Virginia border between the Shenandoah National Park and the Monongahela National Forest. Although Lexington and Buena Vista are independent cities within Rockbridge County, Lexington is the county seat of Rockbridge County VA and the heart of the region. Rockbridge County VA contains thousands of acres of state and national forest, natural landmarks, historic attractions and numerous outdoor activities. Lazy Acres offers the perfect Shenandoah Virginia Cabins for your Virginia Vacation with all the serenity of a mountain escape plus convenience to the exciting activities Lexington Virginia has to offer. Historic Lexington Virginia possesses small town America charm, well-preserved historic structures and all the beauty of the Blue Ridge Mountains you could dream of. Adding to the culture and visual beauty, Lexington Virginia is home to Washington and Lee University and Virginia Military Institute and is full of friendly people, unique attractions and abundant beauty. Complete with its own hospital, performing arts center, professional outdoor theatre, golf course and excellent Lexington Visitor Center, staying at our Virginia Mountain Cabins affords easy access to all that Lexington has to offer. Lazy Acres Cabins are adjacent to 47 acres of rolling horse pastures at the Lazy Acres Equestrian Center and just two miles from the Virginia Horse Center. With something for every member of your group, contact Lazy Acres Cabins today to book your Shenandoah Valley Lodging and Virginia Mountain Cabins, and begin looking forward to all that our area has to offer! Below, we have compiled detailed information about activities, recreation and attractions for your Virginia Vacation. We look forward to greeting you in Lexington!

Outdoors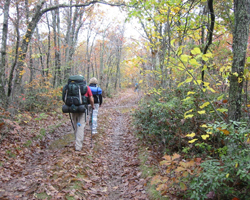 Rockbridge County offers 58,000 acres of National Forest and over 20,000 acres of state-managed land. This abundance of preserved land and our proximity to the Blue Ridge Parkway, Appalachian Trail and numerous rivers and lakes equates to endless opportunities to enjoy the outdoors!

Hiking
Take a hike along one of the many trails stemming from the Blue Ridge Parkway or stroll along the Buena Vista River Walk on the banks of the Maury River. The Blue Ridge Parkway trails can best be accessed at Milepost 45.6 at the intersection with Route 60 East. The famous Appalachian Trail, running from Georgia to Maine, crosses directly through Rockbridge County and traverses the Blue Ridge Parkway at Milepost 45.6. Whether you are looking for a waterfall hike, a dramatic Blue Ridge Mountain hike, or a serene stroll through lush meadows, there are a plethora of hikes for every whim. The Lexington Visitor Center has maps and information on Hiking in Northern Virginia and Virginia Mountain Hiking.


Lexington Visitor Center
106 E. Washington Street // Lexington, VA 24450 // 540-463-3777


Whitewater Rafting
Goshen Pass offer exciting rapids for those desiring some white water adventure in a canoe or kayak, and the Maury River is the perfect float trip for a family oriented rafting trip.

Twin River Outfitters
917 Rockbridge Road // Glasgow, VA 24555
540-261-7334
Wilderness Canoe Company
631 James River Rd // Natural Bridge Station, VA 24579
540-291-2295

Cycling
If it's bicycling you enjoy, take to the Blue Ridge Parkway or enjoy numerous routes stemming from the Lexington Visitors Center like the 36 mile Natural Bridge Loop, 26 mile Lake Robertson Loop and the 35-52 mile Goshen Pass Loop.

Lexington Bicycle Shop
130 South Main St. // Lexington // 540-463-7969
TREK, Cannondale and Diamondback bicycles, accessories, repair service.

Horseback Riding
For horseback riding, Lexington VA and Rockbridge County VA are home to 65 miles of horse trails. These specially designed horse trails run through the Jefferson National Forest, George Washington National Forest and Natural Bridge area. Whether you choose to bring you own horse or take a guided horse ride with the one of the local outfitters, Horseback Riding in Virginia is one of the best ways to enjoy the spectacular scenery. Lazy Acres was designed with the horse lover in mind. Board your horse at our Lazy Acres Equestrian Center and enjoy the numerous trails and national forest lands in and around Lexington VA.

Guided Trail Rides by Virginia Mountain Outfitters
Lincoln Road // Lexington, VA 24450 // 540-261-1910

Virginia Fly Fishing
Our Shenandoah Virginia Cabins are surrounded by some of the best Virginia Fly Fishing in the Shenandoah Valley! Take to the public Designated Trout Waters of Irish Creek, South River, Mill Creek and Maury River or fish for some brown and rainbow trout in Buffalo Creek. Buffalo Creek requires a special land owner permit obtainable from the VDGIF regional office (send self addressed and stamped envelope to Verona, P.O. Box 996, Verona, VA 24482) or from Kelly's Corner. Lake Robertson is a 31-acre lake with impressive largemouth bass, bluegill and redear sunfish and channel cats, and there are several private fishing areas in the Lexington VA area like the Ashland Trout Pond and Buffalo Creek Catch & Release Fly Fishing.

Shenandoah Valley Virginia Fly Fishing Adventures
603 S. Main Street // Lexington, VA 24450 // 800-882-1145 or 540-463-3235

Golf
For the golfer in your group, The Vista Links is an 18-hole, par 72 championship course on 180 acres of countryside. Featuring bent grass greens, bluegrass roughs and five sets of tees for all levels of ability, The Vista Links offers a fabulous round of golf.

The Vista Links
100 Vista Links Drive // Buena Vista, Virginia 24416 // 540-261-4653

Attractions and Activities
Our Virginia Log Home Vacation Rentals are just two miles from the renowned Lexington Horse Park VA and only 5 miles from historic Downtown Lexington VA. Lazy Acres Virginia Mountain Cabins offer the best of both worlds; serene lodging with the very best Lexington Virginia Sightsee attractions just a short drive away!

The Lexington Horse Park VA
The Lexington Horse Park VA is one of the world's leading equestrian facilities. Hosting over 90 events annually with an Olympic caliber cross-county course and indoor arena, there is always something exciting happening at the Virginia Horse Center.

Virginia Horse Center
487 Maury River Road
Lexington, VA 24450
540-464-2950
Glen Maury Park
Glen Maury Park is home to a Virginia Historic Landmark, The Paxton House. Today, the 315 acre park hosts over 20 annual events, including the Maury River Fiddler's Convention and the Beach Music Festival & Classic Car Show. Complete with an Olympic-size pool, wading pool, tennis courts, playgrounds, picnic shelters, roller skating rink, trails, fishing, and sports fields, Glen Maury Park is a one stop shop for a fun filled day.
Glen Maury Park
10th Street
Buena Vista, VA 24416
540-261-7321
Hull's Drive-In Theatre
For evening entertainment, join Hull's Drive-In Theatre for some old-fashioned family fun. Opened in 1950, Hull's is one of the last drive-ins in Virginia and features a wide assortment of drive-in movies and special events.
Hull's Drive-In Theater
2367 North Lee Highway
PO Box 1
Lexington, VA 24450
540-463-2621
Natural Bridge of Virginia
Displaying natural wonder at its finest, Virginia's Natural Bridge is one of the 7 Natural Wonders of the World. At 215 tall and 90 feet wide, Natural Bridge is taller than Niagara Falls, was once owned by Thomas Jefferson and bears the initials of George Washington! Tour the Native American Village, Nature Park and Cedar Creek Trail, or head over to Natural Bridge Caverns, also included in the admission price. Natural Bridge Caverns takes you 34 stories below ground into the east coast's deepest caverns and guided tours last 45 minutes. The Natural Bridge area also features a zoo, a wax museum, a drag strip speedway, and a toy museum collection of 1,700 toys!
Natural Bridge of Virginia
US 11 & 130
Natural Bridge, VA 24578
540-291-2121
800-533-1410

Natural Bridge Caverns
US 11 & 130
Natural Bridge, VA 24578
540-291-2482
800-533-1410
Lee Chapel and Museum
The centerpiece of Washington and Lee University in Lexington Virginia is the Lee Chapel and Museum. Robert E. Lee commissioned the building of the chapel when he was the school's president from 1865-1870. General Robert E. Lee was then buried beneath the chapel in 1883 as were other Lee family members. Today, the chapel contains a statue of Lee and a museum on the lower level of the Lee Chapel. View Robert E. Lee's original 1870 office and learn about the history of Washington and Lee University. The Lee Chapel and Museum also hosts informative exhibits throughout the year and features a fun gift shop.
Lee Chapel and Museum
11 University Place
Lexington, VA 24450
540-458-8768
Stonewall Jackson House
Another historic structure in Lexington with ties to the Civil War is the Stonewall Jackson House. This home in Lexington Virginia is the only house Stonewall Jackson every owned and has been beautifully restored to its pre-Civil War condition. Stonewall Jackson and his second wife, Mary Anna Morrison lived in the brick home while Jackson taught at the Virginia Military Institute before the Civil War. Take a tour of the house and beautiful gardens for a historic taste of Lexington.
Stonewall Jackson House
8 East Washington Street
Lexington, VA 24450
540-463-2552
Virginia Military Institute Museum
The Virginia Military Institute, where Stonewall Jackson taught before the Civil War, is the nation's oldest state-supported military college. The VMI Museum is now housed in the newly renovated Jackson Memorial Hall. Featuring 15,000 artifacts, VMI Heritage exhibit, the uniform "Stonewall" Jackson's was wearing at the time of his fatal wound, and other unique pieces of American history, the VMI Museum is a must see for those interested in military history and the role of the Virginia Military Institute in American history. Visitors also enjoy the parades of the Corps of Cadets on most Fridays during the academic year at 4:30 pm.
Virginia Military Institute Museum
VMI Parade Ground
Lexington, VA 24450
540-464-7334
Lenfest Center for Performing Arts
The Lenfest Center is on the campus of Washington and Lee University in Lexington Virginia and hosts over 127 public performances each year. The Lenfest Center for the Performing Arts is dedicated to community involvement and education through the performing arts. Check the Lenfest Center calendar and enjoy theatre productions, operas, professional plays and musical concerts during your Virginia Vacation.

Lenfest Center for Performing Arts
Washington & Lee University
Lexington, VA 24450
540-458-8000
Theatre at Lime Kiln
The Theatre at Lime Kiln is celebrating 25 years "under the stars." Built on the ruins of a 19th century lime kiln and quarry, the Lime Kiln Theatre is a special place with one-of-a-kind performances. Theatre performances, Shakespeare, and eclectic concerts are offered from April through October. Acclaimed as "one of the most agreeable spots in the western world" by The Roanoke Times, Lime Kiln Theatre is the perfect destination for unique entertainment in the Shenandoah Valley.

Theater at Lime Kiln
699 Lime Kiln Road
Lexington, VA 24450
540-463-7088